Welcome to the E46 M3 Header Guide. In this article we'll go over all of the different header systems available for the S54 motor in 2018. Installing a header for your M3 is a great way to increase horsepower and torque for our cars. Since the S54 is NA there's not much you can do, but eliminating the catalytic converters can open up 15-25 bhp. It's probably the best "bang for the buck" mod you can do for the E46 M3.
Take a look at this guide as we go over each header. Then at the bottom we list out a sort-able table with the brand and price. Keep in mind the prices listed here are straight from their official website. And also, we're excluding brands such as JVT, M3ANONE, Dixis, Evosport, Friedrich, Kromer Kraft, & Race Marquee Systems or any other brand that are either discontinued or unavailable for whatever the reason may be.
Non-Stepped vs Stepped Headers
There are two ways headers are made, non-stepped and stepped. The design of a stepped header allows for more efficient airflow from the exhaust which results in increased horsepower and torque over non-stepped. It is said that stepped headers can also retain more of the low to mid range power when comparing both catless systems, however stepped headers and the performance benefits which companies claim seem to be a very opinionated.
The stepped header is designed with variable diameter of the header pipes. About 99% of all E46 M3 headers (1% custom setups) are 2-piece setups diverting a section into bank 1 and 2 cylinders on the S54 engine.
The first section of the pipes matches the size of the exhaust ports in the engine head, to avoid unwanted turbulence that would decrease the scavenging effect on the exhaust gas. The second section, which begins after an accurately determined length of pipe, has a larger bore, to reduce back pressure and increase the velocity of the gas. The result is manifold that has the best performance on the whole power band, at any revs. -Supersprint.com
Headers for the E46 M3
Below are all the current headers available for the E46 M3. Each header has an image along with a description on the right. You can get a good comparison at how each of the headers look with a side-by-side comparison.
US OEM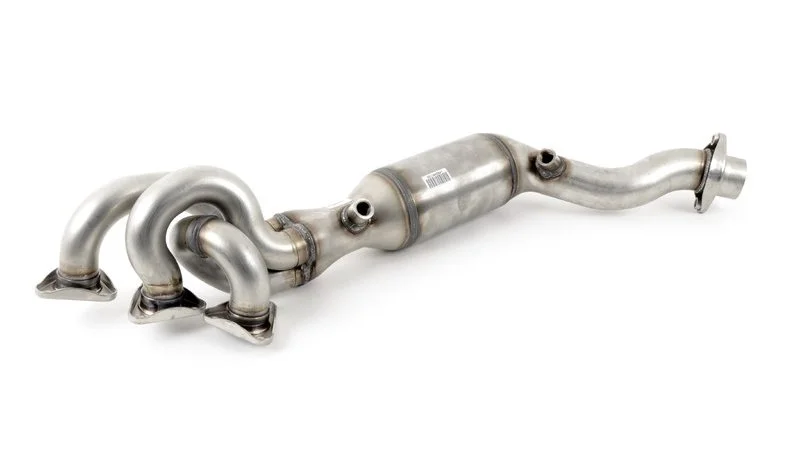 The stock BMW E46 M3 header design came with two 200-cell catalytic converters in total, which are attached to each of the two sections. Included is an EGT bung and four (2 pre-cat, 2 post-cat) O2 sensor bungs. Due to the catalytic converters, the US model was rated at a lower horesepower and torque amount compared to the EU spec.
Price: $2,537.08
Euro/CSL OEM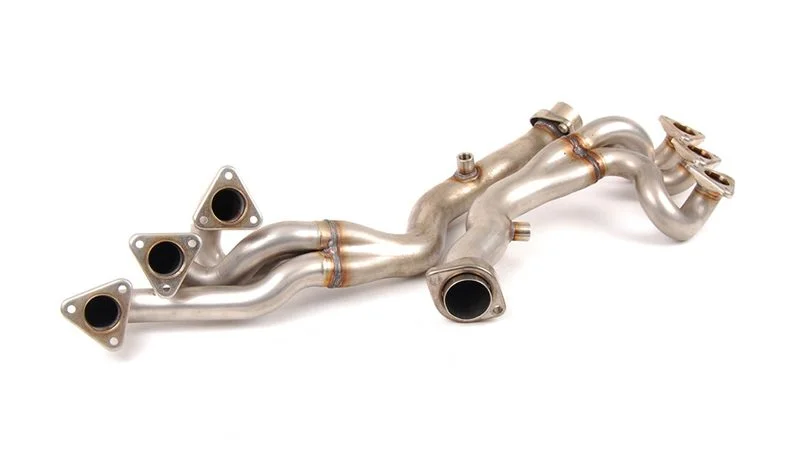 The European version of the BMW E46 M3 does not come with catalytic converters on the headers because of the less aggressive emissions regulation standards in EU. EU cats are located on section 2. A lot of US owners go with the Euro route as it's relatively cheap to buy used online. You can find a used set for around $500 on the forums and 3rd party marketplace like eBay.
Price: $1,069.00
Status Gruppe
Made from the same mandrel bent Polished, Fully TIG welded T-304 Stainless Steel with CNC Machined Flanges. No need to use E36 studs. Clears FCABs and Motor Mounts without modification and have the EGT port already welded on.
Price: $810.00
Epic Motorsports
These Epic Motorsports E46 M3 Headers are designed to bolt right up in place of the restrictive stock headers. The larger diameter of the secondary pipes on these high-performance headers will require an aftermarket section 1, exhaust replacement, or custom fabrication.
Price: $1,999.99
Agency Power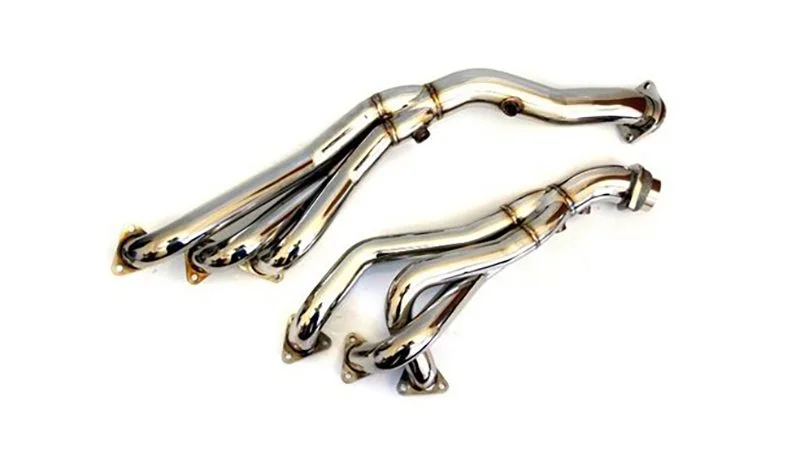 The 321 stainless steel headers are a direct bolt on in replacement of your factory headers. The headers replace the factory catpipes and are to be used for racing applications. The headers have thick flanges and amazing welds to insure longevity and strength compared to the competition. Each pair of headers includes the necessary oxygen sensor bungs.
Price: $1,200.00
Fabspeed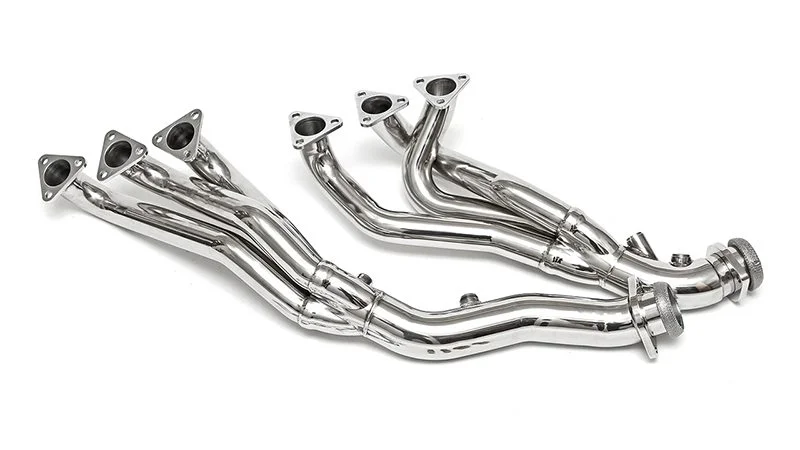 Direct replacement/upgrade for the failure-prone factory headers; lighter, higher flowing, and more durable for increased performance and longevity.
Price: $1,195.00
Supersprint Non-Stepped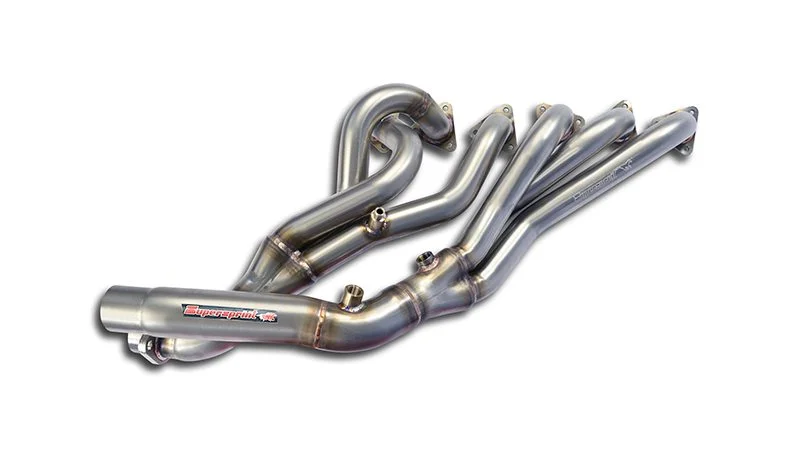 These headers are developed specifically for the US version of the M3 and Z4M, which are fitted as stock with pre-cats. A total of 4 O2 sensor bungs and 1 EGT bung are present to match the original positions.
Price: $1,884.95
Supersprint V1/V2 Stepped
This patented design is quite unique in that it offers a smaller diameter primary tube that starts at the engines exhaust port and later increases to a greater diameter at a specific distance from the cylinder head. The result from the larger tube is maximum horsepower at high RPM, while the small tube maximizes low-end torque.
Price: V1 $2,383.95 / V2 $2,788.95
Manzo
These stainless steel headers are one of the most talked on the forums due to the ridiculously low price point and not-so-happy install reviews. It's basically a hit or miss with this header as the flanges do not match up well to the cylinder head. Choose your risk. We warned you!
Price: $150.00
Active Autowerke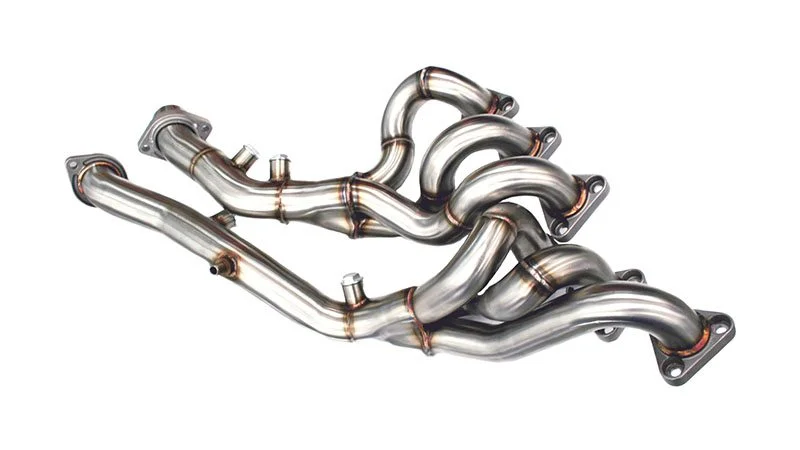 Following the famed BMW E46 M3 CSL headers, each individual header runner of the Active Autowerke header is cut to a matched equal length to ensure a consistent exhaust scavenging (tolerance in lengths vary by bends to a mean average of 10-20mm).
Price: $899.00
aFe Power Twisted Steel
aFe Power's new "Race Only" Twisted Steel Headers deliver an astounding 12 hp and 16 lbs ft. torque. The headers are constructed of near equal length 1.625" 16-gauge 304 stainless steel tubing with 3/8" thick CNC machined flanges to ensure a leak free seal.
Price: $1,573.95
aFe Power Twisted Steel Catted
Similar to the non-catted version the aFe makes a catted version of the E46 M3 header. This system includes dual, 48-state legal, hi-flow, 400 cell per square inch, stainless steel catalytic converters for maximum flow and performance. It is not as free-flowing as the catless.
Price: $2,098.95
Macht Schnell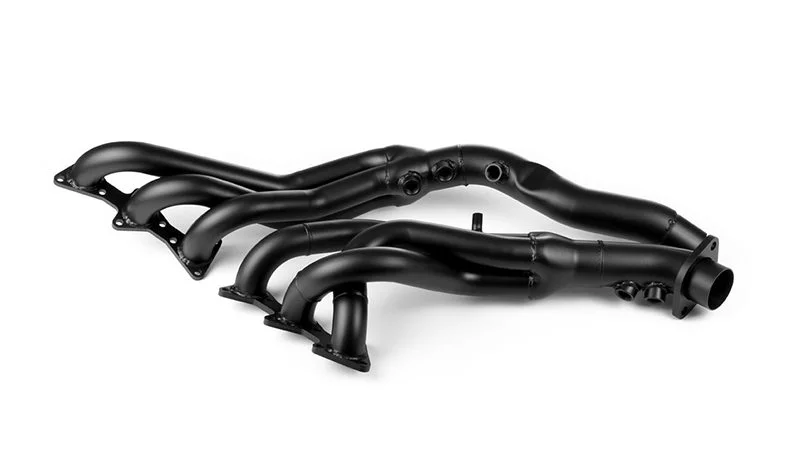 Inspired by BMW's own Motorsport CSL headers, the Macht Schnell Performance Headers are mandrel bent and precision welded for optimal flow and maximum horsepower gains. Laser cut 3/8″ thick single header flanges create a perect seal and prevent warping over time, while still allowing for stock header studs to be used.
Price: N/A
Achilles Motorsports
The smaller primary tube will increase velocity and give more torque, while the larger secondary tubing will allow the engine to breath better for more power on the top end. It is important to note that the tube diameter (size) has a great effect on the speed of the exhaust pulses. If the diameter is too large the gas velocity is lessened and the headers are less effective.
Price: N/A
Custom Performance (CPI)
The CPI Single Step Headers were designed to maximize mid-range torque while maintaining strong peak horse power. Dyno testing resulted in +15 horsepower at 7,500 RPM and +12 pound/feet of torque @ 4,300 RPM over stock at the rear wheels.
Price: $1,095.00
RD Sport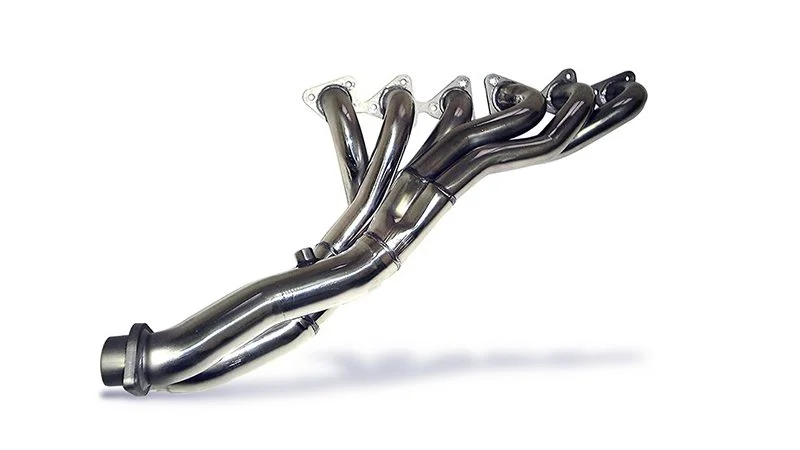 It seems the RD Sport guys are no longer producing these headers, but on their website they still list it, however on "Preorder." We're not too sure what's going on, but we hope more people talk about this header as it seems like a really, really nice piece.
Price: $2,450.00
Megan Racing
This is a new product to the market. Although there have been fitment issues on the forums in the early launch phase, fitment seems to be better than expected. You can find these for well under $300 so if you're looking to save some money and willing to risk fitment issues this is a great option. In my opinion I'd rather try these than Manzo.
Price: $239.00
BMW E46 M3 Headers
| Brand | Product | Price (USD) | Stepped? |
| --- | --- | --- | --- |
| BMW | OEM Euro/CSL Header | $1,069.00 | No |
| BMW | OEM US Header | $2,537.08 | No |
| Achilles Motorsports | Custom Header | | Yes |
| Status Gruppe | V3 Header | $810.00 | No |
| Epic Motorsports | Stepped Header | $1,999.99 | Yes |
| Agency Power | Header | $1,200.00 | No |
| Fabspeed | Header | $1,195.00 | No |
| Supersprint | V1 Stepped Header | $2,383.95 | Yes |
| Supersprint | V2 Stepped Header | $2,788.95 | Yes |
| Supersprint | V2 Header | $1,884.95 | No |
| Manzo | Header | $150.00 | No |
| Active Autowerke | Header | $899.00 | No |
| aFe Power | Twisted Steel Header | $1,573.95 | No |
| aFe Power | Twisted Steel Header (Catted) | $2,098.95 | No |
| Macht Schnell | Header | | No |
| CPI | Single Step Header | $1,095.00 | Yes |
| RD Sport | Tubular Header | $2,450.00 | No |