Buildjournal E46 M3 Brembo BBK Retrofit
The "Buildjournal" E46 M3 Brembo E31 996 big brake kit retrofit improves braking performance over the stock (including ZCP) brake system with a larger 4-pot Brembo front calipers from a BMW E31 840Ci and a 4-pot Brembo rear calipers from a Porsche 996. Yes, an E31 840ci front calipers.
Why E31/996 calipers?
A lot of E46 M3 owners do the "996" retrofit using the Porsche front calipers as well, but there's one big flaw with that…the brake bias!
The front/rear 996 system was designed for a rear-engine setup thus the brake bias gets thrown off when it's installed on the E46 M3. The setup may actually decrease braking performance compared to stock. Check out our E46 M3 Brake Bias Chart article for more details.
Pre-09/2002 owners with the DSC3-based master cylinder have 1.27:1 stock brake bias (56.0%F 44.0%R)

996 front/rear setup changes to 1.15:1 (53.5%F 46.5%R)
E31/996 retains

1.27:1

brake bias (56.0%F 44.0%R)

Post-09-2002 owners with the MK3-based master cylinder have 1:54.1 stock brake bias (60.6%F 39.4%R)

996 front/rear setup changes to 1.39:1 (58.1%F 41.9%R)
E31/996 retains

1.54:1

brake bias (60.6%F 39.4%R)
Now, here comes the E31 caliper. Using this caliper you're able to retain stock brake bias when paired with the 996 rear calipers. A match made in heaven. A few years back, there was a thread on M3Forums talking about the E31 caliper retrofit and Oscar was the first one try the setup. Now that he'as ran it for a while, I decided to do the retrofit myself and take off my Stoptech ST-40 calipers. There's no argument here that the Stoptech's are better than the E31 calipers, but the reason why I decided to do this E46 M3 Brembo retrofit was for reasons other than pure performance.
Great thing about the E31 caliper is that it's 100% bolt on to the stock E46 M3 (non ZCP) retaining the 325x28mm rotor size. There are lots of advantages about this setup including ease of install and friendly on wallet, however there are some cons about this setup. We'll talk about that later in the article.
How much is the E46 M3 Brembo retrofit?
It cost me around $2,100 for a 4 corner E46 M3 Brembo BBK setup and that includes calipers, rotors, brake pads, brake lines and brake fluid. You can probably save more money by sourcing your own vendors. In addition, since this setup utilizes the stock E46 M3 rotor sizes you can save a little more money when time comes to replace rotors. My Stoptech AeroRotors are $280 each corner!
E31/996 retrofit parts list
Instructions on E46 M3 Brembo install
This DIY will cover the installation of the new calipers, rotors, pads and brake lines, however your experience may differ from mine. Please use this as a guide and not an exact step-by-step instruction.
Disclaimer: This DIY does require you to lift your car so please use proper tools and follow all safety procedures if you choose to attempt. This guide is for your reference only. We are not liable for any damages or injuries that result from this guide.
1. Install E31 front caliper
1.1, starting on the front driver side, get car up on jacks and remove wheel to access brakes
1.2, free up all the brake and wear sensor lines from the grommets/brackets
1.3, remove brake line from caliper and make sure to clamp the brake line so fluid doesn't leak too much (don't want to dry up master cylinder)
1.4, remove 2 bolts on the backside of the rotor holding the caliper bracket to spindle and slide out the caliper; you may need to remove pads and compress pistons to release caliper. If so, I recommend you open your brake fluid reservoir and make sure it doesn't overflow.
1.5, remove the 2 hex bolts on the rotor and remove the rotor
1.6, install new rotor including the 2 torx bolts to secure rotor (be aware of rotational direction)
1.7, reinstall brake line on E31 caliper. The left caliper goes on the right side and vice versa. Make sure the bleeder valve is facing up. 11mm bleeder torque to 9-12 ft-lb.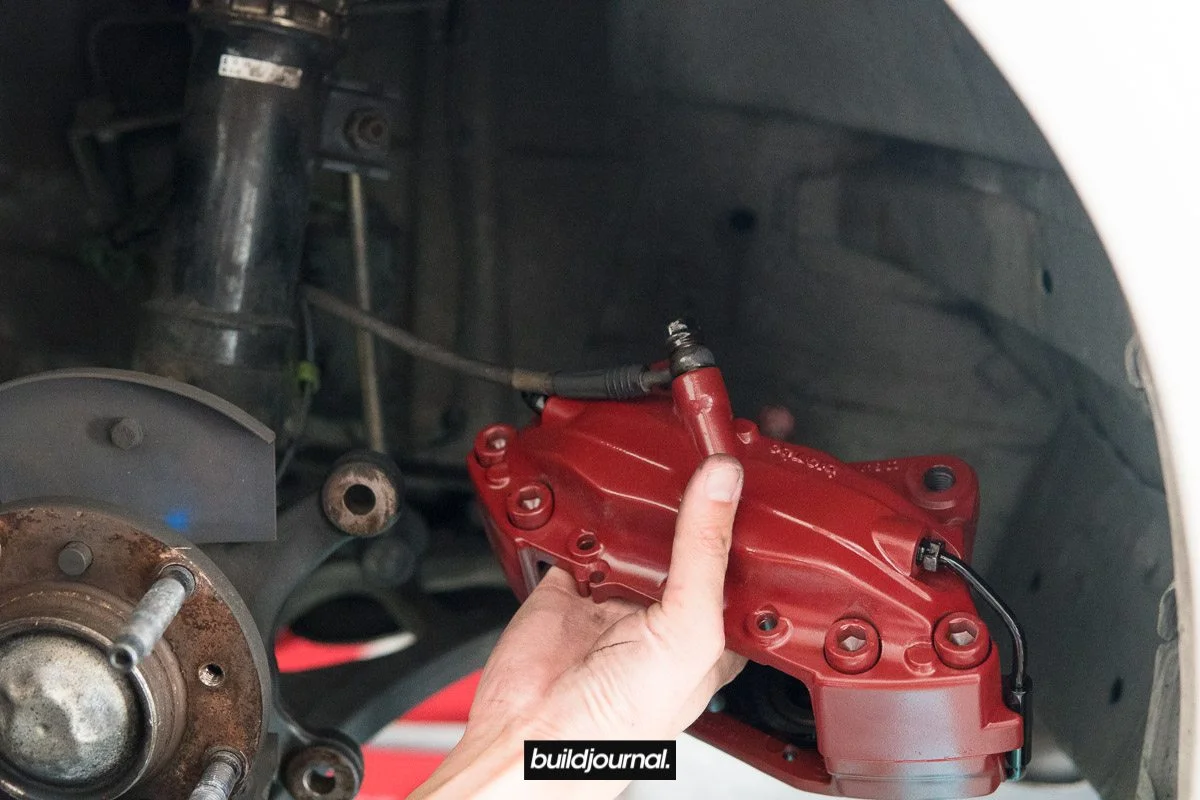 1.8, install new front E31 Brembo caliper. I like to use anti-seize so the caliper bolts don't freeze up inside. Torque to 81 ft-lbs.
1.9, install new pads (FMSI D960) with the new hardware kit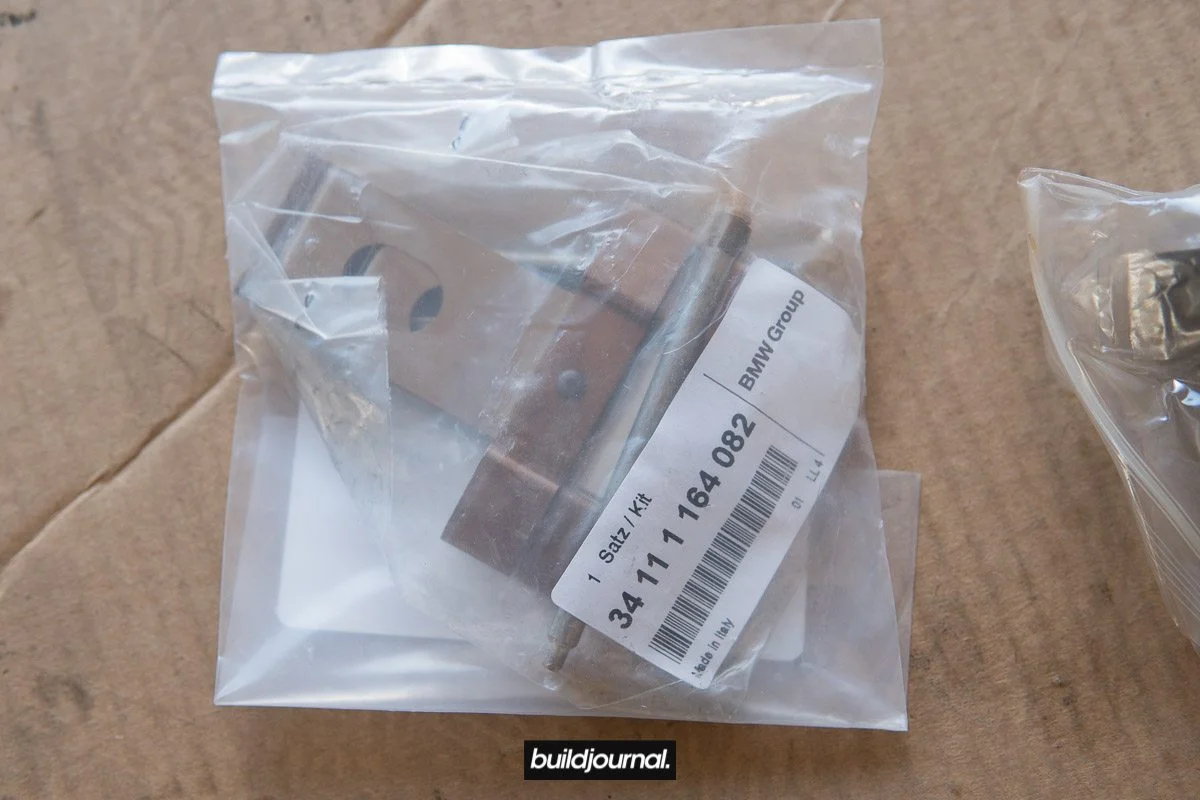 1.10, tuck away the brake line and pad sensor so it's not in the way of anything
1.11, repeat for passenger side front
Note: The front E31 pads are offset on the rotor and has about a 5mm rust ring on the inner side and the outer part of the pads will have uneven wear. Despite not having a full contact patch, the pistons are directly over the rotor and utilizes 95% of the pad. Below you can see a set of used E31 pads taken from Oscar's car.
2. Install 996 rear caliper
2.1, now go to the rear and remove the wheel to access the rear calipers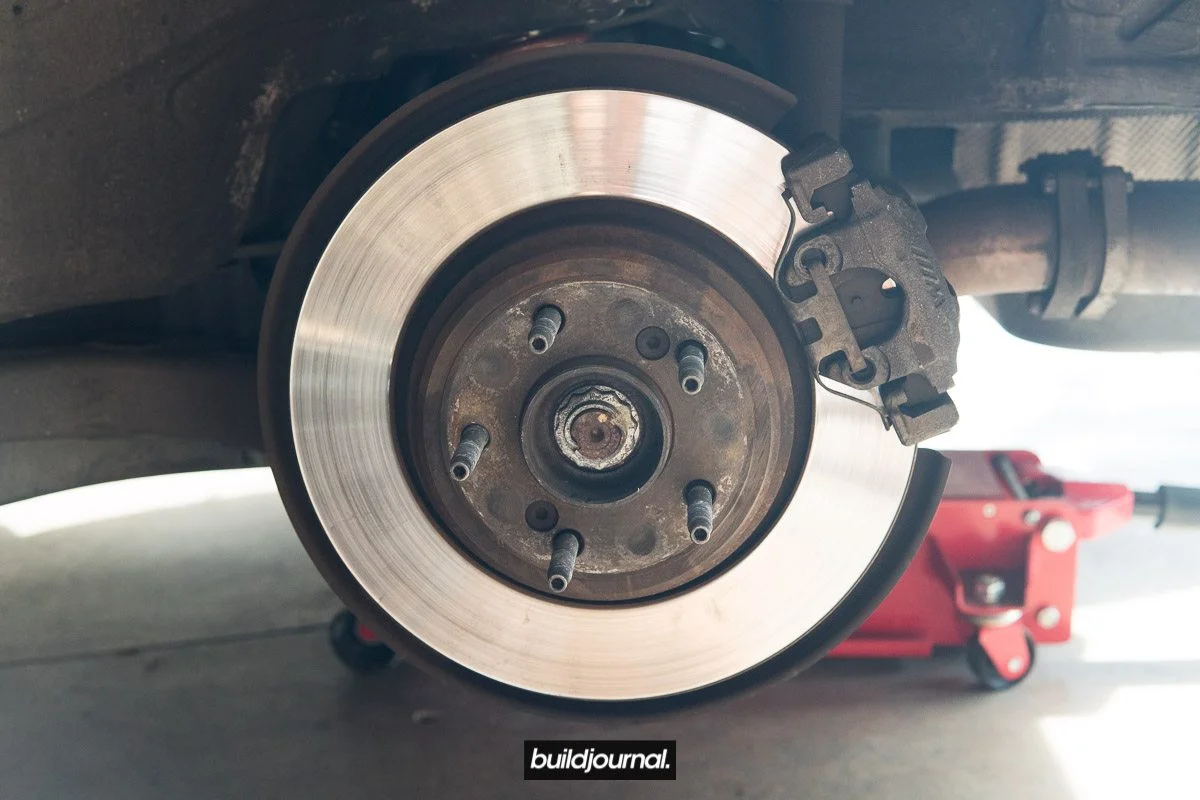 2.2, use a pry bar to release the retaining clip (be careful because this thing will shoot out in any direction)
2.3, remove 2 black caps and remove the 2 caliper retaining bolts. I had to release the lower shock bolt to access my tool in there. Support lower shock with a jack to release tension if you are going to remove the lower shock bolt.
2.4, remove 2 bolts on the backside knuckle to remove the caliper carrier and remove the brake line from the caliper as well. Make sure to clamp line.
2.5, remove the 2 hex bolts on the rotor to remove rotor. E-brake must be down. This is also a good time to adjust your parking brake if you need to.
2.6, you'll need to trim the heat shield to make space for the rear 996 bracket. I cut about 1.25 inches on each side using an angle grinder.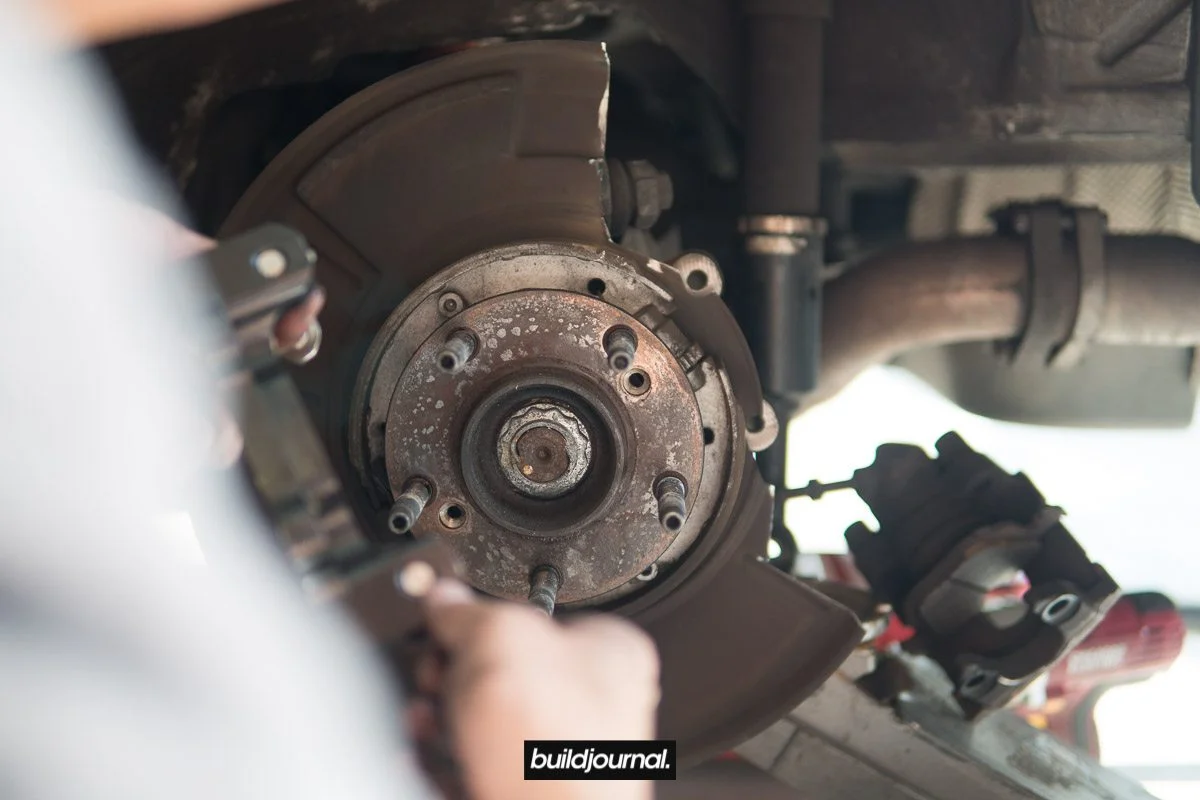 2.7, now you can install the rear 996 caliper carrier and the rotor (make sure to install the 2 hex rotor bolts). Torque bracket to spindle 48 ft-lbs. These are the RallyRoad brackets. Creation Motorsports brackets can not utilize the front Boxster pads and has additional clearance issues with the hardware/pins.
2.8, before you put the 996 rear calipers on, you must swap the caliper fluid transfer line with the bleeder valve, per caliper. This is to ensure the bleeder valves face up, but more importantly the Porsche caliper is a leading caliper. You'll notice on the 996 caliper the piston sizes are different. You want the smaller piston engaging the brake pad first.
2.9, install the 996 rear caliper on the carrier. Torque caliper to bracket. I couldn't find the exact torque spec for this, but I torqued it to 48 ft-lbs.
2.10, attach rear brake line and make sure all lines are away from the axles. I had a tough time with both of the rear brake lines so I had to use a locking vice grip and a heat gun to break the line free.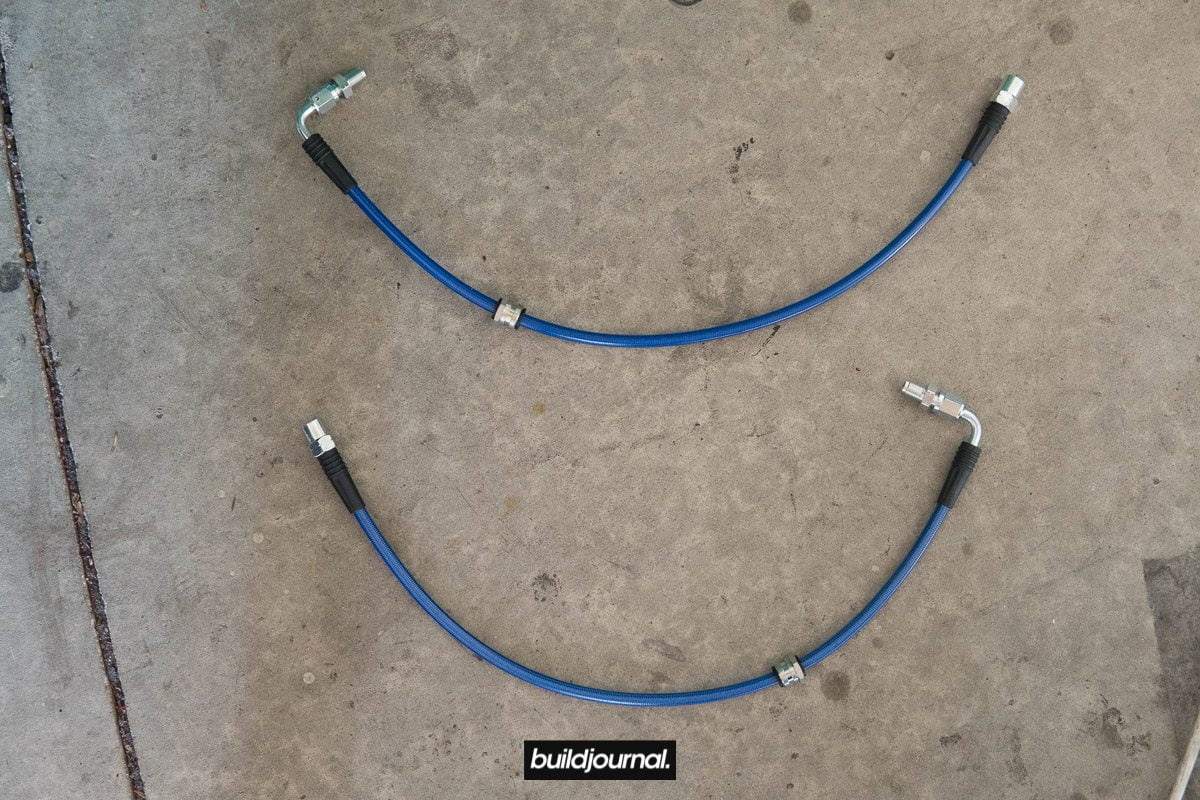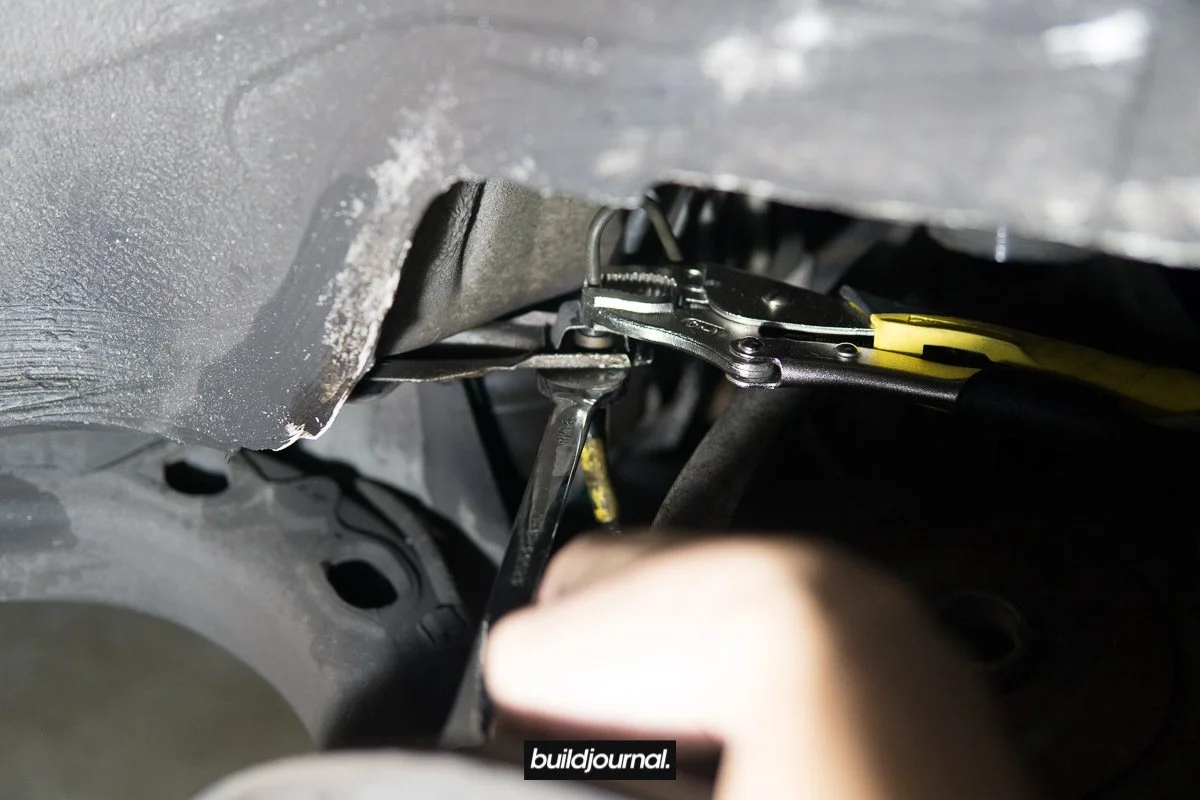 2.11, install the lower shock bolt back in and torque to 74 ft-lbs while loaded. Make sure all lines are clear and free. You don't want to have these rub against the axle potentially causing brake failure. You can install Porsche Boxster front pads (FMSI D737) to get full contact patch on the rear rotors.
2.12, repeat for passenger side
3. Bleed brakes
3.1, after all this is done, inspect your bolts and make sure everything is torqued! Now that you're done, you can grab your bottle of brake fluid and flush the system. I lost a lot of fluid so I used a little over a liter of brake fluid. It may be wise to get an extra liter or two in case you lose a lot of fluid.
3.2, after you finished properly flushing/bleeding your brake system, I recommend you clear out the ABS system with INPA if you have it or take it to a shop to properly flush.
3.4, torque all 11mm bleeder valves to 9-12 ft-lb. Do a check to make sure all valves are closed including the reservoir cap. Put wheels back on and torque to 88 ft-lbs. Prepare to start the car.
3.5, turn on the car, pump the brakes and check for any leaks in the brake system.
3.6, if you're using new rotors and pads, you must do the break-in procedure. Refer to your manufacturer on instructions.
Note: I had to run 12mm spacers up front to clear my Apex ARC-8 wheels 18×9.5 ET35. It might be a good idea to have a couple spacers on hand in case you run into a clearance issue.
Price

Performance

Ease of Installation
Summary
For those that want a BBK setup, but don't want to break the bank, this is for you. You can get a 4 corner E46 M3 Brembo BBK system for around $2,000.