Wheel spacers are a great way to improve handling, make your car look more aggressive, and gain additional clearance for big brake kit applications. And the Precision European Motorwerks 15mm Hubcentric Wheel Spacers do just that. It's also relatively easy to install and the only thing you really need to do is jack up your car and remove your wheel to gain access to your hub. Just make sure to apply proper torquing to the bolts when installing wheel back on. We've all seen that infamous video of the Mazda RX-7 losing all 4 wheels on the auto-x course.
Although the aspect of improved handling is a benefit with wheel spacers, that's not really why most of us run spacers. Especially for those that take their car to the track, we recommend avoiding wheel spacers at all cost and just find a proper offset with rim selection. However, as long as you carefully select and install wheel spacers, you should be fine. For most of us, we run spacers simply because we can get rid of the ugly stock wheel gap between the fender and tire without having to spend a lot of new rims. Let's be real.
Personally, I run spacers on my E46 M3 so I can have extra clearance between my wheel spoke and Stoptech ST-40 calipers. Some wheels, such as ones that have concave spoke designs, don't allow for much clearance between the caliper and wheel so the only option is to either get a different style wheel that clears or remove the BBK alltogether. And I'm not trying to do either of that.
So let's take a look at the kit we got for one of our cars. Precision European Motorwerks makes a few of these wheel spacer kits for BMW models and today we'll review their Precision European Motorwerks 15mm Hubcentric Wheel Spacers for a 2013 BMW F30 335i. The kit comes with a pair (2) of 15mm spacers and includes bolts. Let's go over the product details first.
[row]
[one_half]
Spacers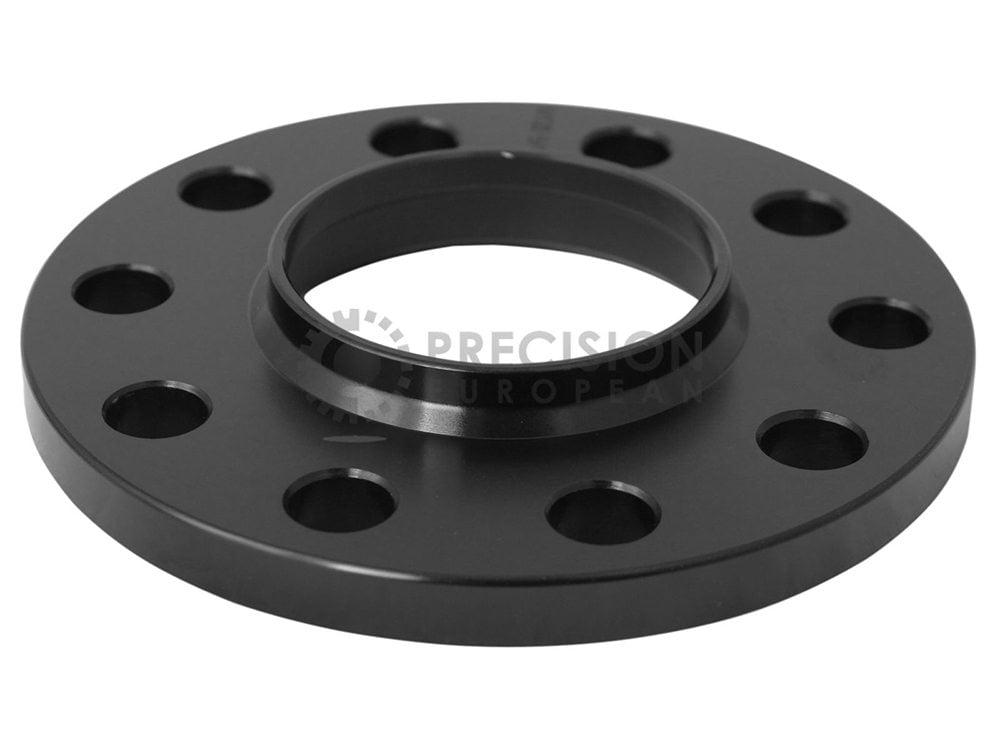 Thickness: 15mm
Centerbore: 72.6mm
Vehicle Bolt Pattern: 5×120
Wheel Bolt Pattern: 5×120
Surface Finish: High Quality Aerospace Aluminum
Construction: CNC Machined Aluminum
Color: Black
[/one_half]
[one_half_last]
Bolts
Bolt Thread Pitch: 14×1.25
Shank Length: 42mm
Seat Type: Cone Seat
Color: Black
[/one_half_last]
[/row]
Review
The first thing we discovered with the spacer is that there is no lip to easily pry apart the spacer from the wheel hub. Some of the other manufacturers out there include a pry lip so when rust or other adhesion occurs with the spacer and hub, it's rather easy to remove. After months and years of driving under severe conditions, when it's time to do a rotor replacement you might find removing the spacer is a PITA job to do.
The construction of the spacer is great as it's made out of CNC machined aluminum with a black "High Quality Aerospace Aluminum" finish. The centerbore is 72.6mm with a hubcentric ring which fits perfectly on the F30 335i. This is especially imporatnt when finding spacers for your BMW! Make sure it is hubcentric!
[message_box title="Notes" text="Be careful when fitting a 10mm wheel spacer to any BMW. The depth of the hubcentric ring may vary and may not sit flush with the hub. This may lead to wheel vibrations and even damage to your wheel."]
We were kind of disappointed in the bolts because of the condition it came in. They appear as if they were in a large box of bolts just sitting around being picked up and dropped a few hundred times. There are some visible scratches that appear on the bolt head, however the threads looked fine with no damage. I guess that's the most important part.
We found that the 15mm spacer was as aggressive as we can get without rubbing issues running on BMW 19″ 403M with 225/40/19 tires. The tires fit really flush with the fender and eliminates basically all the wheel gap between the fender and tire.
Before

After

Conclusion
The Precision European Motorwerks 15mm Hubcentric Wheel Spacers work. It's hubcentric and that's kind of all that matters. We were also very happy with the fitment with out BMW 19″ 403M with 225/40/19 tires. Now as for quality, there are better out there. We did not like how there wasn't a pry lip to remove the spacer and the bolts seemed rather cheap, but for $59.95 I don't think there is anything better out there if you don't care about cosmetics and convenience to remove the spacers.